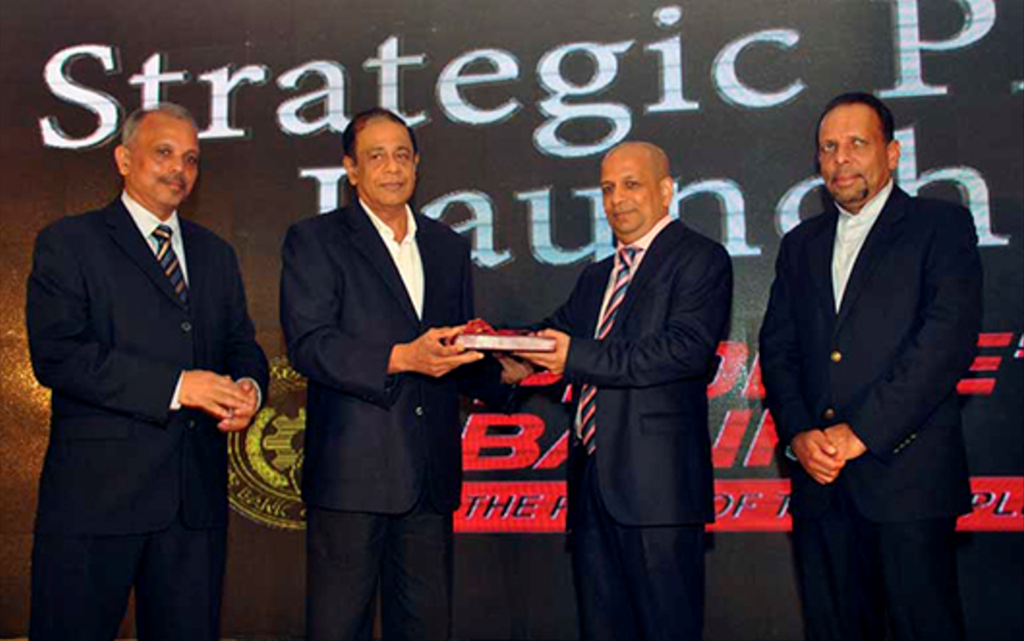 The management of People's Bank recently presented its five-year strategic plan for future growth to over 1,000 head office and branch network professionals, from different levels of the organisation. The plan 'SP 16/20' was formulated by MTI Consultants, in close collaboration with the staff of People's Bank. The plan is based on MTI's internationally acclaimed 8S Model and outlines key strategic initiatives that will help People's Bank achieve its 2020 profitability targets and secure its position as the undisputed market leader in the financial services sector.
Over the next five years, People's Bank will continue to remain dedicated to empowering the people of Sri Lanka and as part of its mission the bank will continue to serve and meet the needs of its stakeholders including customers, owners, employees and society at large.
At the presentation ceremony, MTI Consultants CEO Hilmy Cader officially handed over the first copy of 'SP 16/20' to People's Bank Chairman Hemasiri Fernando. Also present at the event were People's Bank Chief Executive Officer/General Manager N. Vasantha Kumar, along with the Directors of People's Bank and the bank's senior management. Employees were briefed on the bank's way forward and were given an overview of the strategic focus and key initiatives which will be implemented over the next five years.
People's Bank currently serves over 16 million account relationships, through 737 branches and is also connected to a network of over 2,500 ATMs which are linked to the Lanka Pay gateway. The new strategy places customers at the heart of People's Bank's operations and also focuses on boosting the bank's overall efficiency. In order to ensure the optimal allocation of resources and energy, all business units and products have been classified as primary or secondary developments, and the latter have been identified as areas with high potential that the bank will concentrate on developing.
As part of the new strategy, the bank will move towards electronic and lifestyle based channels and will strive to enhance its service culture and branch ergonomics. Several customer-centric initiatives have also been identified to help People's Bank reach a wider range of high-end customers, whilst maintaining its current customer base. Additionally the bank will also explore other funding opportunities and will consider expanding its international footprint in high potential markets.
The bank has also begun its paperless banking journey and will focus on offering revolutionary new green banking solutions throughout its operations. By becoming the most digitalised bank, People's Bank hopes to bring a new level of convenience to its customers whilst reducing its carbon footprint and levels of energy consumption at the same time.
Commenting on the plan, People's Bank Chairman Hemasiri Fernando stated, "People's Bank has invested in developing a five-year strategic plan, which will help fulfil our vision for 2020. Having always played a pivotal role in the economic development of Sri Lanka, the bank will continue to be an economic driver and spearhead financial inclusivity by providing a wider segment of the population with access to high quality banking facilities and services."
"We are in the business of providing financial services that contribute to people's quality of life and enterprise development via affordable, accessible and efficiently delivered solutions. Our new strategic approach will enable us to solidify our position as Sri Lanka's undisputed market leader in the financial services industry and in preparation for the future; we will also focus on transitioning into the most digitalised and technologically advanced bank in the country.
"In a volatile and competitive climate, we hope that 'SP 16/20' will enable us to fulfil our pragmatic vision, gain a competitive advantage and reaffirm our ethos of being the pulse of the people. We will also work closely with our main stakeholder – the Government of Sri Lanka and support all of its efforts to modernise the country and build a thriving economy."
Also commenting on the new plan, Vasantha Kumar stated, "Our new strategic plan is based on MTI's internationally acclaimed 8S Model and is well-aligned with the Government's vision for 2020. Staff members from all levels of the organisation helped to develop 'SP 16/20' and we now want them to take ownership and help us to effectively implement the required initiatives. Our key focus will be on creating a more customer-centric and goal-orientated culture. In terms of channels, strategic initiatives have been formulated to help the bank reduce its dependency on a single channel such as the branch network.
"Additionally, customer focused initiatives have been formulated to uplift our corporate banking and commercial credit segments to help attract more potential customers. We will also closely analyse and adapt to emerging market trends and implement a new culture of efficiency, as we strive to reach our financial and growth targets for 2020."
Following a competitive pitching process, MTI Consultants was chosen to create the strategic plan for People's Bank. Commenting on MTI's development of the plan, Hilmy Cader stated, "We are delighted that People's Bank selected us to develop its holistic strategic plan, which has laid the foundation for the bank to achieve its financial and marketing targets over the next five years. This strategy should enable People's Bank to uplift its offering and deliver a new level of excellence, innovation and efficiency throughout its operations."
Since its inception 54 years ago, People's Bank has opened its doors to customers across the country, from all walks of life, providing them with banking services that meet their unique needs and uplift their lives. The bank has been a long-standing institution that has always remained close to the country's people and understood their pulse and needs.
People's Bank continues to play a crucial role in encouraging various industries including agriculture, real estate, commercial development, small and medium enterprises and exports and this in turn has helped support communities across the country. People's Bank was also the first bank in the country to commence bilingual operations in Sinhala and Tamil, and also introduced Sri Lanka's first trilingual cheque book.
People's Bank is well on track to achieve market dominance by 2020 and is currently recognised as one of the country's largest and most financially exclusive banks. The bank recently received the 'Best Banking Group' 'and Most Sustainable Bank' awards at the prestigious World Finance Banking Awards in 2015. The reputed international financial and business magazine, 'The European', also recently honoured People's Bank for serving Sri Lankans for over five decades and enabling them to meet all their financial and banking needs. People's Bank also received the 'Service Brand of the Year' and 'Banking Service Provider of the Year' for the ninth consecutive year at the SLIM Nielson People's Awards in 2015.
The management of People's Bank, supported by the strategic planning provided by MTI Consultants is now well-poised to usher the bank into a new era of dynamism and leadership. Making its transition into a modern and engaging bank that is more geared to support the people of Sri Lanka, People's Bank will continue to revolutionise the local banking industry whilst simultaneously supporting the country's economic development.