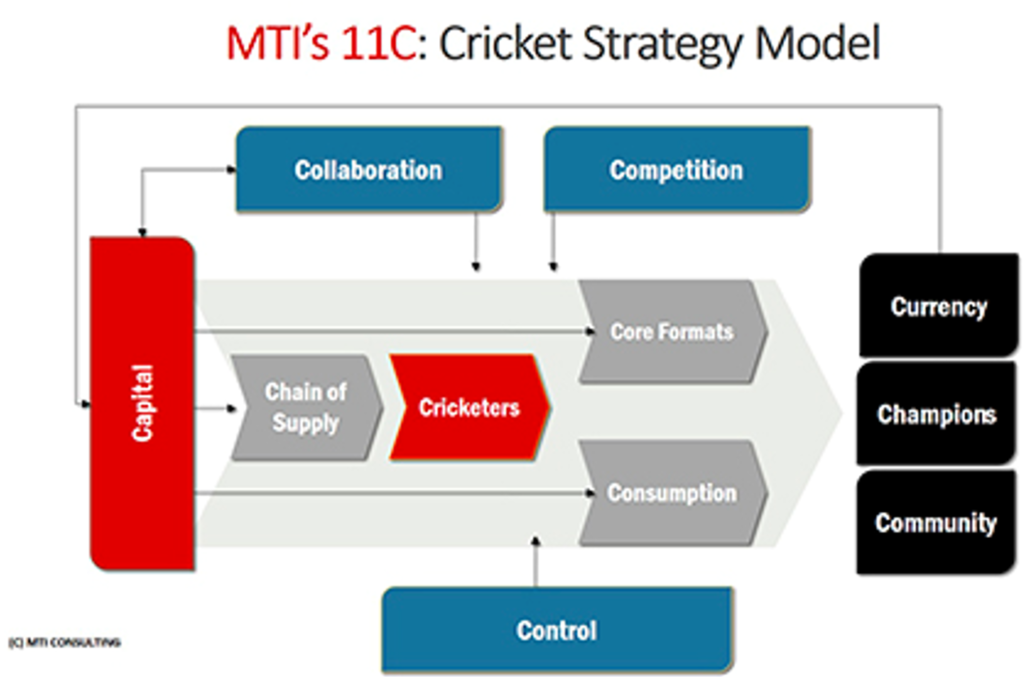 With the newly-elected committee assuming duties at Sri Lanka Cricket (SLC) and given the challenges the game has encountered in recent years (both on and off the field), the time is now to revisit and restructure the entire eco-system of the game.
While recognising that industry (cricket in this case), appreciation and experience are essential, MTI is of the professional opinion that, given the multi-faceted nature this industry (with the game at the core), it also requires strong strategic and managerial competencies which can benefit from non-cricketing brains as well.
Based on a pioneering research and thought leadership assignment, MTI had developed 'MTI's 11 Cricket Model', which can be an effective framework for the newly-elected body to shape their direction and strategies.
The business of cricket is estimated at $ 11.7 billion globally, growing at 15% per annum and could be easily classified as a 'FMCG' (Fast Moving Consumer Good). Not only does it touch the hearts and minds of over two billion consumers worldwide, it accounts for a significant proportion of the consumers' television and web surfing time, not discounting the enormous amount of casual consumer chat. It is argued that this form of unscripted entertainment is capturing share from other forms of leisure and entertainment. It is now opening up new frontiers, from Afghanistan to Argentina, from Canada to China and from Namibia to Netherlands. The innovation curve now in high growth mode, with multiple international T20 tournaments, and it is expected to capture an increased percentage of the consumers and the advertisers' wallet. Many in the industry still see it as a competitive sport, consumers see it as a form of entertainment, cricketers see it a viable career, above all, it is among the most competitive and dynamic industries, that rivals many conventional industries. Given the many facets of the cricket industry (players, spectators, TV viewers, sponsors, advertisers, boards etc.), it requires a holistic business strategy framework, that can benefit from proven strategy formulation models, yet captures the very essence of cricket.
MTI's 11C Cricket Business Model has been developed as a framework (with relevant tools) to help cricket authorities to analyse, strategise and realise greater heights for cricket as a business.
MTI Consulting is an internationally-networked boutique management consultancy, offering advisory services in Strategy, Strategic Planning, Corporate Re-structuring, Process Re-engineering, Performance Management, International Market Entry, Feasibility Studies, Due Diligence, Corporate Finance, M&A, HR, Executive Search / Head Hunting, Marketing Strategy, Branding and Market Research.
Since the inception in 1997, MTI has worked on over 520 assignments in over 43 countries, covering a diverse range of industries, clients and business challenges.
Read on  DailyFT