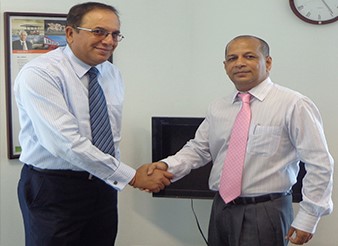 India's largest company, Indian Oil (via LIOC) -, has retained the services of MTI Consulting to carry out a study of the fast emerging Myanmar and Indonesian markets.
Speaking at the signing of the agreement, Mr. Subodh Dakwale, MD of LIOC commented "One of our strategic pursuits is develop exports, given our international capabilities in the lube business. We see emerging markets in the Mekong Valley and South East Asia as prime prospects. We look forward to the benefits of working with MTI who have impressive credentials across emerging markets"
MTI Consulting has worked on assignments across emerging markets in Asian, Middle East and African regions, which includes projects carried for multi-national and regional companies in Algeria, Bangladesh, Cambodia, Egypt, Indonesia, Jordon, Iran, Iraq, Lebanon, Myanmar, Nigeria, Pakistan, Philippines and Syria
Indian Oil Corporation Ltd. is India's largest company by sales with a turnover of Rs. 4,09,957 crore ($ 85,550 million) and profit of Rs. 3,955 crore ($ 825 million) for the year 2011-12.
Indian Oil is the highest ranked Indian company in the latest Fortune 'Global 500' listings, ranked at the 83rd position. Indian Oil's vision is driven by a group of dynamic leaders who have made it a name to reckon with.