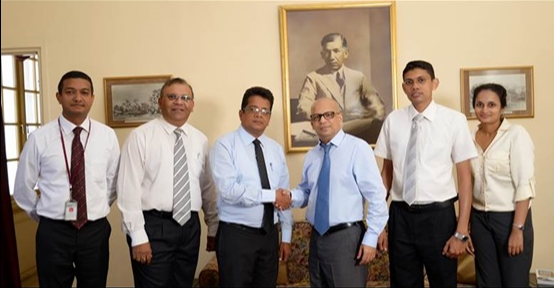 Arising from a competitive pitch, the Associated Newspapers of Sri Lanka has selected International Consultants MTI, to conceptualize, research, develop, deliver and help implement a comprehensive 3 year (2017-2019) strategic plan for ANCL Sri Lanka – covering all the different publications (current and planned) of the entire group.
"Given the fast paced changes taking place in the way news and entertainment is 'consumed', the Lake House publications needs to respond to the consequent challenges and opportunities. This requires a strategic assessment based direction for the entire group and we look forward to benefitting from MTI's international and local experience in strategizing," said Abhaya Amaradasa, General Manager of ANCL.
Commenting on the process, MTI's Bahrain-based CEO, Hilmy Cader said, "MTI's 8S ® – an internationally proven strategic planning model will be customized and used as the master model for the ANCL Strategic Plan Development. Initially, developed in 1999, MTI's 8S ® has continuously improved, benefiting the robust experience of over 120 strategic planning projects – covering diverse categories, countries and business challenges. Each sub-module has a strong bottom-line focus and is supported by tools to ensure a bias for implementation."
A key feature of the MTI Consulting approach that will be applied to the ANCL project will be the focus on implementation. For each of the Strategic Initiatives in the ANCL Strategic Plan – an action plan (known as 'Straction') will be developed. This will address the key questions of: What needs to be specifically done?, How will it be done?, Who will do it?, When will it be done?, and a check on 'If it has been done and How well it has been done? Post handing over the 3 Year Strategic Plan and Implementation Plans, MTI will carry Implementation Audits and report back the progress on how well ANCL is implementing it and recommendation on any corrective actions.
The Associated Newspapers of Ceylon Limited (ANCL) is Sri Lanka's oldest and leading print media and publication organization, with over 26 publications in three languages.
MTI Consulting is an internationally-networked, boutique management consultancy enabling clients to 'Analyze > Strategize > Realize' profitable business opportunities. Since their inception in 1997, MTI has worked on over 550 assignments in over 41 Countries, covering a diverse range of industries, clients and business challenges. MTI has been at the cutting-edge of thought leadership on strategy, having developed several strategic planning models and frameworks.
Photo: MTI CEO Hilmy Cader (3rd from right) after the project launch with ANCL's Director – Legal Sirimewan Dias Piyasena (3rd from left), watched by Abhaya Amaradasa (General Manager – ANCL), Sumith Kothalawala (Head of Corporate Planning – ANCL), Kapila Liyanage (Head of Operations – MTI) and Rajika Sangakkara (Business Analyst – MTI)