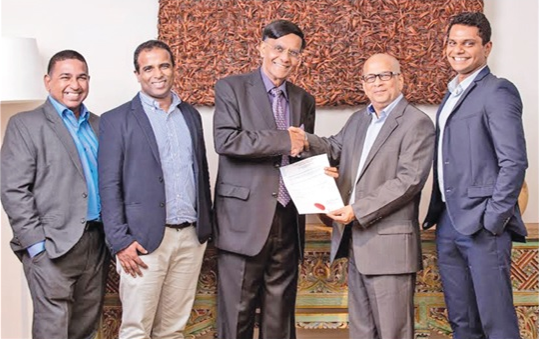 MTI Consulting has acquired a strategic equity stake in The Carbon Consulting Company – Sri Lanka's pioneering provider of integrated sustainability solutions.
Founded by Eswaran Brothers, The Rainco Group and The Munasinghe Institute of Development (MIND), Carbon Consulting has rapidly gained a reputation as one of South Asia's leading sustainability solutions providers. With over 70 clients both locally and internationally the company provides a range of sustainability offerings, spanning carbon, water, waste, energy and biodiversity, whilst helping Corporates to develop and execute their sustainability strategy.
"Our strategic tie-up with MTI Consulting will help us reach new domains, offer synergized and seamless solutions to clients internationally," said Prof. Mohan Munasinghe (Director of Carbon Consulting), who shared the 2007 Nobel Peace Prize with Former US Vice President Al Gore.
Commenting at the signing ceremony, MTI CEO, Hilmy Cader said, "Sustainability is no longer a peripheral issue, it very much an integral part of enterprise strategy, with the potential for deep-impact. Our stake and alliance with Carbon Consulting will help us offer strategic sustainability solutions to our growing client base here in Sri Lanka and internationally. Being driven by a very passionate board of directors motivated us to partner Carbon Consulting."
Prof. Mohan Munasinghe and Hilmy Cader, after the signing of the agreement along with Sanith de Silva Wijeyaratne (CEO), Fazal Fauz (Director) and Subramaniam Eassuwaren