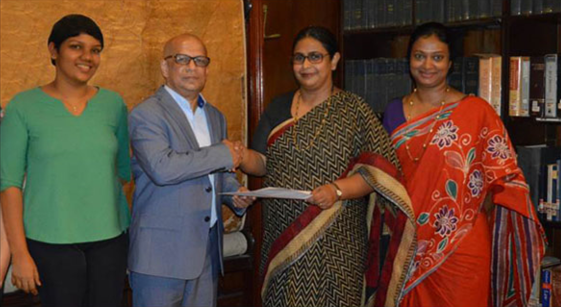 Sri Lanka well positioned for a LPO destination
J. & G. de Saram, Sri Lanka's leading corporate and commercial law firm – founded over 175 years ago, and MTI Consulting have set-up a JV called 'Legal Source' that offers legal process out-sourcing services to international and local clients. The services offered include: Contract Management, Legal Research, Legal Support Services and Intellectual Property Documentation.
"Understanding the timely need for customized legal outsourcing solutions, we are excited to launch Legal Source in partnership with MTI Consulting. Our years of expertise in handling legal matters combined with MTI's experience in strategy and market research will ensure that our clients receive the highest quality of service while ensuring value for moneym," said Shehara Varia, Partner at F. J. & G. de Saram and Director of Legal Source.
Commenting on the venture MTI CEO Hilmy Cader said, "Today, any business – be it a start-up or a multi-national has to deal with cumbersome legal aspects in their respective line of business. This makes it difficult to focus on the value adding activities of the business as considerable time, effort and money is spent for legal matters. We believe that the high standard of customized solutions offered will help our clients focus on what matters, while we take care of the rest."
Efjay E-Legal Limited (who will be the JV partner with MTI for this venture) is a fully owned company of F. J. & G. de Saram, set up in 2002 to provide knowledge process solutions drawing from the expertise of the firm. Their clients include most of the leading business houses, banks and financial institutions in Sri Lanka and the majority of the transnational corporations engaged in business in Sri Lanka, including Fortune 500 companies to multilateral agencies.
MTI Consulting is an internationally-networked boutique management consultancy, offering advisory services in Strategy, Strategic Planning, Corporate Re-structuring, Process Re-engineering, Performance Management, International Market Entry, Feasibility Studies, Due Diligence, Corporate Finance, M&A, HR, Executive Search / Head Hunting, Marketing Strategy, Branding and Market Research. Since its inception in 1997, MTI has worked on over 630 assignments in more than 43 countries, covering a diverse range of industries, clients and business challenges.
Visit www.legalsource.lk for further information
Photo: Shehara Varia – Partner F. J. & G. de Saram and Director of Legal Source (2nd from right), Hilmy Cader – CEO MTI Consulting (3rd from right) with Anjali Fernando – Partner F. J. & G. de Saram and Christine Fernando – Business Analyst – MTI Consulting and Project Manager of Legal Sourc