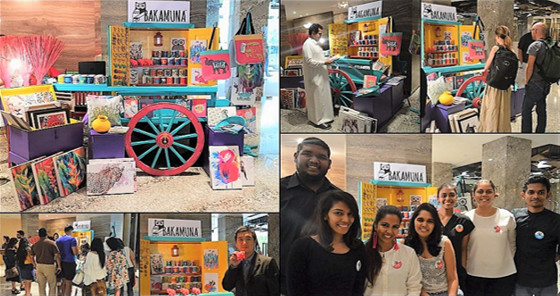 Incubated By MTI idea2fund
Bakamuna, a mixed media lifestyle design brand, enabled by MTI's idea2fund has successfully completed a nine day run of their Pop-up at The Hilton Colombo. The brand's first ever Pop-up, a repurposed bullock cart that carried a range of lifestyle products such as homeware, stationery and accessories was stationed at the Hilton Colombo from the 23rd of June till the 1st of July.
The traditional mode of transportation was given a modern vibe with the use of contemporary design elements and was used to showcase a range of products that had been created through mixed media design. The overall footfall generated by the Pop-up was noticeably greater each day and it proved to be a major attraction for tourists and locals alike. This store concept enables Bakamuna to easily take their mobile shopping experience to different locations.
"Bakamuna had the amazing opportunity to interact with our local and international community on a more personal level and we were so happy to be able connect with all those who came by. By being a part of the Bakamuna experience, they were able to gain a better understanding of the inspiration behind our designs," said Chief Bakamuna/CEO, Rochelle Bibile. "We greatly appreciate The Hilton Colombo for giving us a platform to launch our first ever Pop-up and we hope to set up at many other locations around the island, spreading our quirky vibe and showcasing our visual stories wherever we go."
Bakamuna's specialty is mixed media; an art form where two or more mediums such as ink and digital mediums or painting and collage are combined in to a single composition. Bakamuna has taken this concept a step further and incorporated materials such as wood, rubber and fabric in to their products, while establishing their signature Bakamuna style; traditional elements with a contemporary twist.
"Having launched early last year, we are immensely happy with the speed at which Bakamuna has been growing. The opportunities for design in Sri Lanka are expanding and this is substantiated by the success of our first ever Pop-up," stated MTI Venture Manager for Bakamuna, Malithi Herath.
Having started with the store in store concept, the Bakamuna Pop-up – a locally owned and operated franchise will now expand on the concept by having similar stores across the country.
A part of the proceeds from the project are to go towards aiding art therapy based programs for centres catering to children who are economically challenged. Bakamuna aims to create, connect and collaborate and actively looks to support the local art community in diverse ways.
Read on  DailyFT