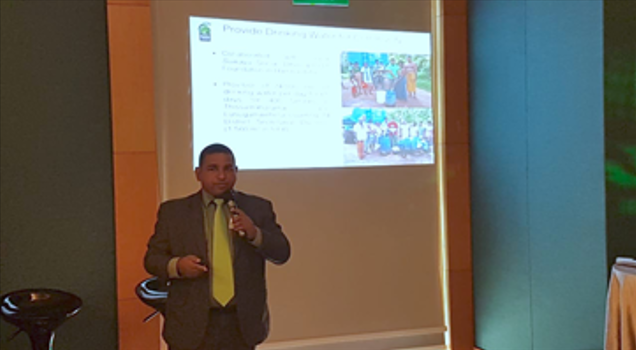 Leading the global discussion on Climate Change this week, Sanith de S. Wijeyeratne, CEO of The Carbon Consulting Company (of which MTI Consulting is a Strategic Equity Partner), was invited to speak at the Asia Pacific Climate Week (APCW2018) hosted across three days in Singapore. The event was held under the leadership of the UNFCC, and sponsored by The World Bank Group and the ADB. The theme for APCW2018 was "Climate Action for Sustainable Development: Driving Change in Asia Pacific" which focuses on market-based approaches, economic instruments and climate-aligned finance to drive investment in climate action.
Carbon Consulting Company (CCC) was chosen to showcase its work in helping achieve water neutrality for one of the world's leading garment manufacturers – Linea Aqua – which became the first garment factory in the world to achieve corporate water neutrality.
"It is an honor to be invited to speak at such a prestigious international summit," says CCC's CEO Sanith de S. Wijeyeratne. "Our work in the sphere of corporate water footprinting and neutrality is becoming ever more vital in today's environmental context. Sri Lanka is blessed with a relatively abundant water table which has led to unrestrained extraction and consumption by many large conglomerates who have begun to believe that consuming unlimited amounts of fresh water is their unfettered right. In an era where we see an increasing impact of climate change on water, and the impacts on rural communities, it is a wakeup call that companies need to be more ethical in their water consumption."
Like Carbon Neutrality (offsetting the greenhouse gases of an organization), Water Neutrality relies on the offsetting of an organization's water consumption, through a compensatory programme of activities designed to return useable water to surrounding eco-systems. An organization can achieve this status, through the 4-R mechanism. Reviewing, Reducing and Reusing water is central to the concept as the first aim is to actually minimize the amount of fresh water that is actually extracted and consumed. The final step is to Replenish what cannot be reduced. A company can do this by sponsoring clean water initiatives, restoring and protecting watersheds and implementing advanced technological solutions to solve the corporate water requirements.
The APCW2018 lands two months ahead of the Global Climate Action Summit in California and New York Climate Week. The events are instrumental in demonstrating that there is genuine international support for stepping-up climate action by mobilizing actors across the Asia Pacific region and moving towards delivering on the Sustainable Development Goals.
In addition to the WaterNeutral® presentation, CCC has been invited to display their work on the Hiniduma Bio-link Project in the Knowledge Hub segment of the conference. The Hiniduma Bio-link aims to establish a biodiversity corridor between two large remnant disturbed rainforest patches — Sinharaja and Kanneliya — and to conserve buffer zones around the forest edges through reforestation.
Carbon Consulting Company is Sri Lanka's only, and one of South Asia's leading providers of Integrated Sustainability Solutions. The company offers a diverse range of consultancy services that cover all avenues of corporate sustainability. In its endeavors to add sustainability to boardroom agendas of corporates, Carbon Consulting is supported by its Strategic Equity Partner – MTI Consulting.
Photo Descriptor: Sanith de S. Wijeyeratne – CEO of The Carbon Consulting Company (CCC)
Read on  DailyFT