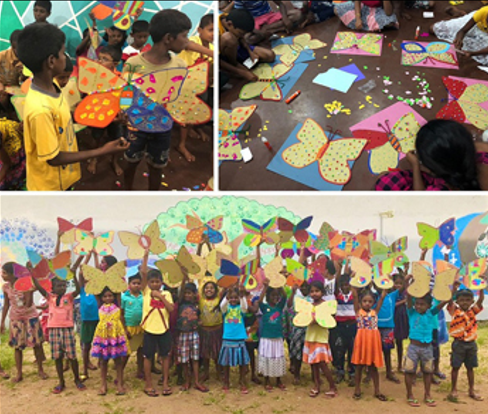 Bakamuna collaborated with the Center of Hope on a Mixed Media Art Therapy Workshop, held recently in Mattakkuliya. Bakamuna is a mixed media lifestyle design brand, enabled by MTI Consulting's idea2fund.
Proceeds from Bakamuna's first ever Pop-up at The Hilton Colombo were used to conduct this workshop at the Mattakkuliya center. The Pop-up held in June, where Bakamuna presented a range of mixed media lifestyle products through their bullock cart concept, was a resounding success, and it was all done with a worthy cause in mind.
The workshop was conducted for a group of forty children from the Center between the ages of seven and twelve, who have specifically shown an interest in art.
"We are very grateful to Bakamuna for giving our children the opportunity to learn about mixed media and to express themselves through art. We consider it a priority to provide our children with the right support to help them understand their own value and uniqueness. Art is not only a creative outlet for them but it can also help to boost their confidence and self-esteem," stated Prasad Alex Perera – COO, Center of Hope.
Mixed media integrates two or more artistic mediums such as, ink and pastel or paint and collage into a single composition. Through the use of mixed media, Bakamuna offered these children the opportunity to express and explore thoughts and feelings about themselves that are sometimes difficult to put into words.
"Through Bakamuna we not only create, connect and collaborate but we also encourage the community to celebrate life through art! Art as a form of therapy is about spontaneous creative expression – skill is not the focus. The creative process of art making can help to improve and enhance mental and emotional well-being and by offering kids the opportunity to express and explore thoughts and feelings about themselves in a safe, comfortable space they learn how to use art as a form of expression," said Chief Bakamuna/CEO, Rochelle Bibile.
Started in 1979 and originally known as 'Project Love Care,' the center in Mattakkuliya was first set up in response to the plight of the then recently emerged Summitpura slum-community. Known as the 'Center of Hope' today, the operation now encompasses Centers, Kidz Klubz, and Rays of Hope, which together, impact up to over 5000 children in Sri Lanka per year, who hail from troubled or economically challenged backgrounds.
Bakamuna is a mixed media lifestyle design brand that aims to create, connect and collaborate. The company supports the local art community in diverse ways having also conducted similar workshops for differently abled students at a leading international school earlier this year.
Read on Daily Mirror