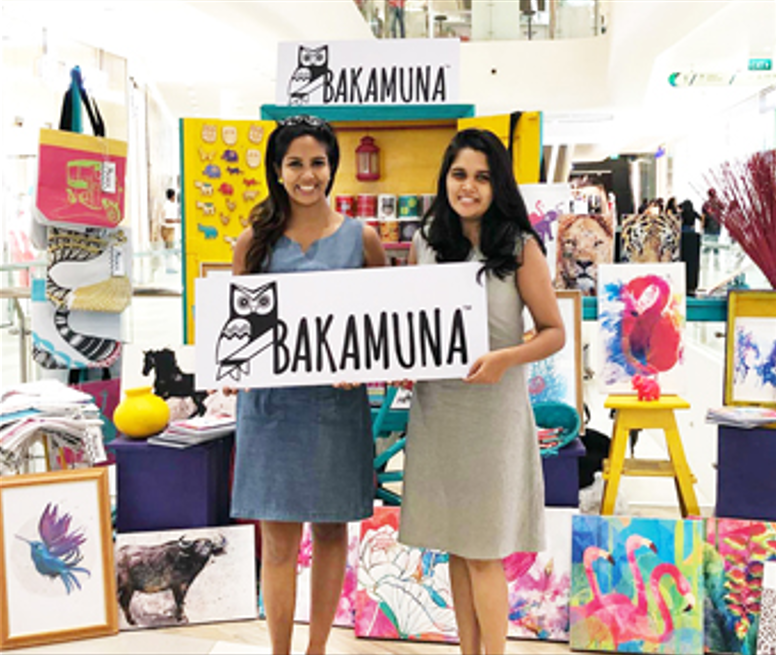 Bakamuna, a mixed media lifestyle design brand powered by MTI's idea2fund, successfully completed a 15-day run of its pop-up store at the Colombo City Centre (CCC). The store, a repurposed bullock cart, was stationed from 19 September to 3 October, carrying a range of lifestyle products such as homeware, stationery, and accessories.
Bakamuna's pop-up store was held at CCC following their successful launch at The Hilton Colombo in June. Both these stores gave the traditional mode of transportation a modern vibe with the use of contemporary design elements, and used it to showcase a range of products that had been created through mixed media design, which proved to be a major attraction for tourists and locals alike.
"We truly enjoyed taking our unique pop-up concept to the Colombo City Centre. We loved the whole process of creating, connecting and collaborating through our mixed media designs, and the overall response from our audience was really great!" said Chief Bakamuna/CEO, Rochelle Bibile.
"We're also grateful to our Bakamuna community for supporting us in many ways, and we're looking forward to have many more successful pop-ups moving forward."
Bakamuna's specialty is mixed media, an art form where two or more mediums such as ink and digital mediums, or painting and collage, are combined in to a single composition. Bakamuna has taken this concept a step further, and incorporated materials such as wood, rubber, and fabric in to their products, while establishing their signature Bakamuna style; traditional elements with a contemporary twist.
"Having launched early last year, we are immensely happy with the speed at which Bakamuna has been growing. In future, we look forward to seize more opportunities in both the local and global design space with the advisory support of MTI's idea2fund," stated MTI Venture Manager for Bakamuna, Malithi Herath.
In keeping up with their aim to create, connect and collaborate, Bakamuna is actively looking to support the local art community in diverse ways. Thus, a part of the proceeds from the pop-up will go towards aiding art therapy-based programs for children in Sri Lanka.
Photo Descriptor: From left: Bakamuna Chief/CEO Rochelle Bibile and MTI Venture Manager for Bakamuna Malithi Herath
Read on DailyFT