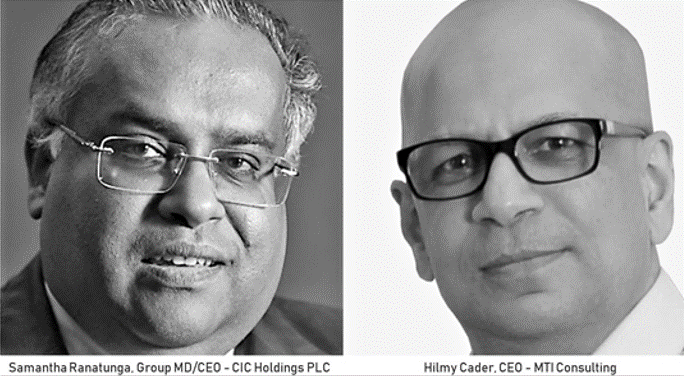 A subsidiary of CIC Holdings PLC, CIC Grains Ltd sold its assets to one of the leading players in the poultry industry which was facilitated by MTI's Corporate Finance arm. This sale was made to two joint ventures of Bairaha Group, Fortune Agro Industries Ltd and Windsor Real Estate Ltd which includes the land, building, plant and machinery located in Moneragala which was previously owned by CIC Grains Ltd.
Mr. Samantha Ranatunga, MD of CIC Holdings PLC stated: "We have been focusing on our main strengths which has made us to realign the current business structure of our company and we have selected MTI to facilitate this in a more rationalize way as result of which we have decided to sell our Moneragala asset to a very well-known group in the country and we wish them all the very best."
Proceeding the sale Mr Hilmy Cader, the CEO of MTI Consulting mentioned that: "As a part of the rationalizing and realignment process which MTI is advising CIC on, CIC Grains sale was made to the Bairaha Group of which we are immensely pleased of been the facilitator for this transaction and it's my pleasure to mention that working with CIC so far has been great exposure to the MTI team."
CIC Holdings PLC is one of Sri Lanka's leading conglomerates since 1964 with ventures in businesses ranging from agriculture to chemicals and from medicine to household products. Guided by strong ethics and a culture of growth, CIC has become a household name with every Sri Lankan. CIC continues to conduct their business in a structured, pragmatic and empathetic manner and to build mutually rewarding and lasting relationships with the principals and the customers by being attuned to their needs. This is underpinned by excelling in all that CIC does.
MTI Consulting is an internationally-networked boutique management consultancy which is based in Bahrain, offering advisory services in Strategy, Business Operations, Corporate Finance, Talent & Resourcing, Tech Advisory and Go-to-Market. Since its inception in 1997, MTI has worked on over 650 assignments in over 43 countries, covering a diverse range of industries, clients and business challenges. The internationally renowned organization has a proven track record in strategy consulting related projects over the years.
Photo: Samantha Ranatunga, Group Managing Director/CEO – CIC Holdings PLC and Hilmy Cader, CEO – MTI Consulting
Read on  DailyFT