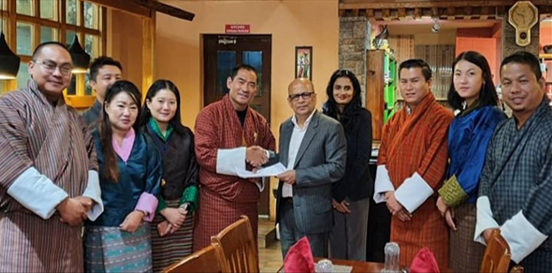 Bhutan marks the 43rd country that MTI has carried out an assignment
STCB, which is one the key state enterprises in Bhutan, has approved the re-structuring plan that was developed in consultation with MTI Consulting. Bhutan is the 43rd country in which MTI has carried out an assignment in the last 22 years of existence.
In a communique to MTI, Mr. Kuenga Namgay – CEO of STCBL said, "We would like to inform MTI that the OD Exercise report has been presented to the 119th Board held on 28th December, 2019. The Board endorsed the report and STCBL would like to thank MTI for the timely and good work done. The report would help STCBL chalk out a practical and implementable way forward. Once gain thanks for the good work. Looking forward to working together soon."
The State Trading Corporation of Bhutan Limited (STCBL), arising from a competitive international pitch, had selected MTI Consulting to help re-structure the organization via an assignment on Organizational Development. STCB is the sole authorized distributor of Toyota Motors and authorized distributor of Tata Motors and Eicher Vehicles in Bhutan.
Meanwhile, MTI have also appointed a local Bhutanese associate who will facilitate market development and project management. The MTI delegation had also conducted a road show in Bhutan covering the corporate & business leaders and the key state officials.
"We are also using this opportunity to study the concept of Gross National Happiness, how Bhutan has effectively integrated this into governance and culture. We had enlightening exchange session with the Center for Bhutan Studies, the country's leading research agency cum think tank, whilst sharing MTI's thought leadership on strategy, with both parties agreeing to explore collaborations," said MTI CEO, Hilmy Cader.
MTI Consulting is an internationally networked strategy consultancy, having worked on projects in over 40 countries, including frontier markets such as Algeria, Bangladesh, Cambodia, Egypt, Jordon, Iran, Iraq, Lebanon, Maldives, Mexico, Myanmar, Nigeria, Pakistan, Palestine, Philippines, Syria.
Photo: Hilmy Cader, CEO – MTI Consulting and Mr. Kuenga Namgay – CEO of STCBL , watched by the MTI & STCB team members
Read on  DailyFT