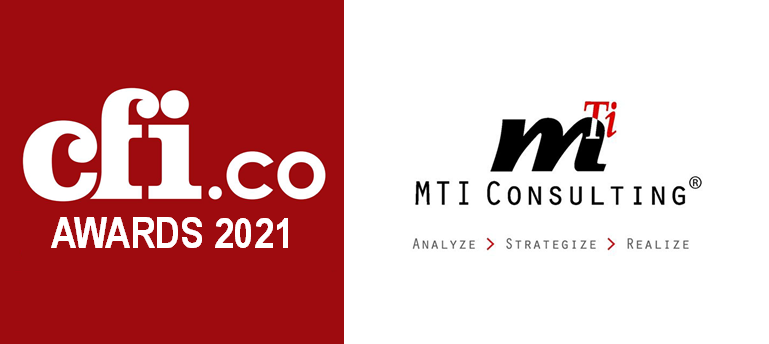 Deloitte & PwC among the other 2021 awardees
London-based Capital Finance International (cfi.co) has awarded MTI Consulting as the 2021 Best Boutique Management Consultancy for the Middle East & Africa region as part of CFI.co Awards 2021 which identifies and awards individuals and organizations that contribute significantly to the convergence of economies and truly add value for all stakeholders.
CFI.co, a print journal and online resource reporting on business, economics and finance, recognizes that the traditional distinction between emerging and developed markets is now far less meaningful as world economies converge. Headquartered in London, the world's most multicultural city, CFI.co brings coverage and analysis of the drivers behind change. Combining the views of leading multilateral and national organizations with thought leadership from some of the world's top minds their dedicated editorial team ensure that readers better understand the forces influencing and reshaping the global economy.
Other consultancies that have been awarded in this program include Deloitte Cyprus for the Best International Financial Advisory Team Cyprus 2021, PwC Middle East for Best Business & Tax Services Provider Middle East 2021, and AccountAbility for Best ESG Strategy Development Partner Global 2021.
"MTI is a fast growing, internationally-networked boutique management consultancy that enables our clients to 'Analyze > Strategize > Realize' effective outcomes and we are honored to be acknowledged by CFI for our work in the Middle East and Africa," said MTI CEO, Hilmy Cader. A start-up in 1997 by Hilmy Cader, MTI Consulting, in the last 25 years, has worked on over 680 projects across 49 countries. This includes significant experience across the Middle East and Africa, working with Industry Leader, Multi-business Conglomerates, Governments and Family-Managed Businesses.
Photograph: Hilmy Cader – CEO – MTI Consulting
See on CFI.co
Read on DailyFT