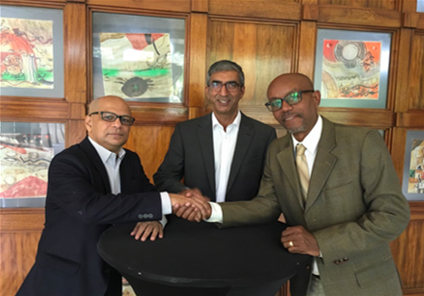 The MTI International Team led by CEO Hilmy Cader and Consultant Darshan Singh are currently in Addis Ababa, as part of an initiative to strengthen ties with BCaD Consulting, MTI's Associate in the second most populous African Country.
Commenting on the significance of the visit, MTI CEO, Hilmy Cader said, "Our international go-to-market business model has been to work with boutique independent consultants in these emerging and frontier market. With a population of 105 million people and an economy growing in excess of 9%, Ethiopia is geographically well-positioned to serve the fast growing East African region. Our experience in frontier markets gives us an edge in serving the public and private sectors in Ethiopia."
MTI Consulting has worked on assignments across emerging and frontier markets in Asian, Middle East and African regions, which include projects carried for multi-national and regional companies and agencies in Algeria, Bangladesh, Cambodia, Egypt, Indonesia, Jordon, Iran, Iraq, Lebanon, Myanmar, Nigeria, Pakistan, Philippines and Syria.
BCaD Consulting Management has been operating for two decades and carries out a wide range of business support activities through high caliber multidisciplinary professionals in various fields – using both custom made models as well as internationally anchored ones for facilitating enterprise competitiveness. In addition to local organizations, BCaD Consulting has worked with a large number of leading multilateral organizations/donor agencies such as the World Bank, ILO, USAID, Oxfam, SNV, GIZ etc. on multiple projects in areas such as entrepreneurship/micro enterprise development, capacity development training, financial education etc.
BCaD Consulting Founder and CEO, Afework Yohannes, counts more than thirty years of experience in small business management promotion and development. He is certified at advisor level by the International Trade Centre (ITC) in the application of the Business Management System (MBS) instrument for business diagnosis and strategy development. He is also a founding member of the Value Links International Association (an association of value chain development professionals based in Germany).
Photo: BCaD Consulting Founder and CEO, Afework Yohannes with MTI CEO Hilmy Cader and International Consultant and Darshan Singh
Read on  DailyFT