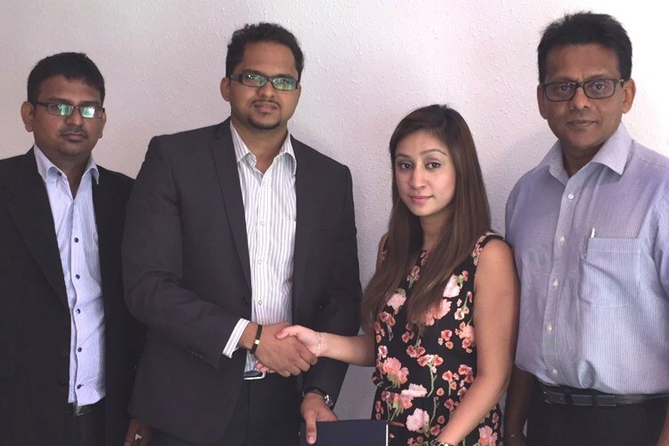 MTI, CIMA Pakistan and CIMA regional representatives at the final presentation CIMA, the world's largest professional body of management accountants, in consultation with MTI Consulting has completed a multi-stakeholder study to fine-tune their Pakistan market strategy.
"CIMA opened its Pakistan office in 2009 with the intent of enhancing the professional and qualified management accountants, in a country that requires globally recognised professional bodies to support local talent. The entry of CIMA in to the professional education industry of Pakistan was with the strategic intent of gaining a greater share of its relatively large degree-driven market. This establishment also enabled CIMA to offer greater support to the existing members and students and create opportunities for the talented youth in the country," said CIMA's Regional Director for Middle East, South Asia and North Africa Bradley Emerson.
"MTI has provided CIMA Pakistan with plenty of food for thought and strategic initiatives for each and every stakeholder which will ensure that going forward each stakeholder would be addressed in our strategy to generate half of all enrolments in the MENASA region by 2018," CIMA Country Head (Pakistan) Javaria Hassan added. To find the answers to the focus areas defined, MTI structured the research such that it would take a 360 degree insight from all of CIMA Pakistan stakeholders.
As a result, over 600 touch points were achieved in the span of the three months. This was formidable data along with the ground knowledge acquired through visits to develop reliable assessments of the current 'business-brand health' and draw conclusive strategic pursuits for CIMA Pakistan.
MTI has an impressive track record in Pakistan having successfully completed the mega consulting project to develop Pakistan's National Export Plan via the re-structuring the Trade Development Authority of Pakistan. MTI, the international boutique consultancy has worked on assignments across emerging markets in Asian, Middle East and African regions, which includes projects carried for multi-national and regional companies and agencies in Algeria, Bangladesh, Cambodia, Egypt, Indonesia, Jordon, Iran, Iraq, Lebanon, Myanmar, Nigeria, Pakistan, Philippines and Syria.
MTI Consulting is an internationally-networked boutique management consultancy, offering advisory services in Strategy, Strategic Planning, Corporate Re-structuring, Process Re-engineering, Performance Management, International Market Entry, Feasibility Studies, Due Diligence, Corporate Finance, M&A, HR, Executive Search / Head Hunting, Marketing Strategy, Branding and Market Research.
Since the inception in 1997, MTI has worked on over 520 assignments in over 43 countries, covering a diverse range of industries, clients and business challenges.