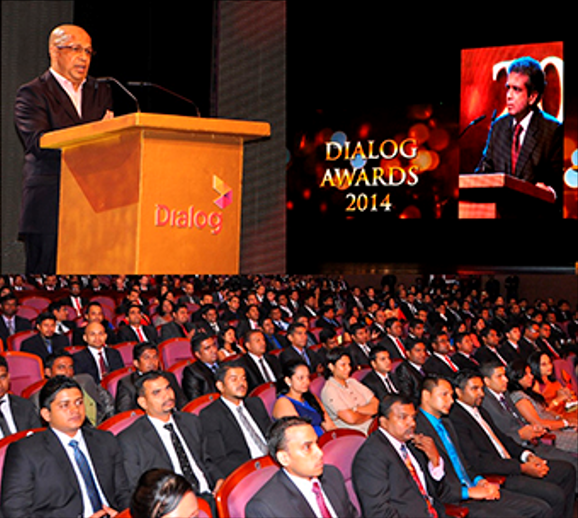 Dialog, Sri Lanka's leading mobile operator; successfully concluded its annual employee recognition program for 2014 with MTI Consulting being retained as the independent judging partner. Operating within one of the most competitive industries, the awards program seeks to identify and reward Dialog's individual and team achievements, vital to the year's business performance.
Having encountered tremendous growth since its inception in 1995, Dialog has grown to become one of the most prominent telecom and technology companies in Sri Lanka, building a Rs. 63 billion business in the process. Keeping true to its vision of 'The Future, today', Dialog has also excelled in introducing the latest innovative mobile technologies within the country. With an employee base of 3,000+ serving over eight million customers, Dialog is constantly looking for newer ways to improve its HRM function and ensure its workforce remains motivated. It is in this context that the unique awards program lasting over two months is considered to be a breakthrough best practice in human resource management. The awards program was initially conceptualised in 2011 with MTI HRM Solutions and is reviewed every year, bringing in crucial improvements to better assess and reward employees.
"The Dialog Awards is unique – because it covers the entire value chain of the organisation at multiple levels and gives employees the option to apply, present, nominate and/or be evaluated on solid business performance. The judging includes independent professionals, presenters are challenged and cross-functional senior management team augment the entire judging process that goes on for two months. The commitment of the entre Dialog senior management team to this rigorous and transparent process is exemplary. In our professional opinion this is a world class initiative." – MTI Consulting CEO, Hilmy Cader.
"It covers the entire value chain of the organisation at multiple levels and gives employees the option to apply, present, nominate, vote and or be evaluated on merit, while also being challenged by independent judges. We also re-evaluate award categories and criteria every single year to ensure the process remains competitive and motivating," stated MTI CEO, Hilmy Cader.
The program has become the perfect platform to highlight key achievements of Dialog's employees under various categories such as cost minimisation, revenue generation, innovation, sustainability and CSR, essential to the business's performance.
"The Dialog Awards program has matured in terms of depth and coverage of individual and team achievement, and holds vital 12-1significance to Dialog's calendar. MTI has worked alongside us throughout this journey as a partner in design, research and development of the awards, as well as in the capacity of an independent juror with respect to evaluation of awards and winners," stated Dialog Group CEO, Dr. Hans Wijayasuriya.
The program concluded with a final event held at the Nelum Pokuna theatre with awards handed out in presence of the majority audience of Dialog employees. Dialog's international Board of Directors was also present at the event to handover the awards, interact with the winners and deliver the strategic keynotes.
MTI HRM Solutions is a subsidiary of MTI Consulting and their clients range across the globe, industries and sectors. They offer a full suite of HR consulting and advisory services which includes – integrated HR audit and strategy, organisational and job design, recruitment and selection, motivation and talent retention, HRD/training need identification, HR capacity/manpower planning, performance management, employee engagement/organisational climate surveys and executive search.