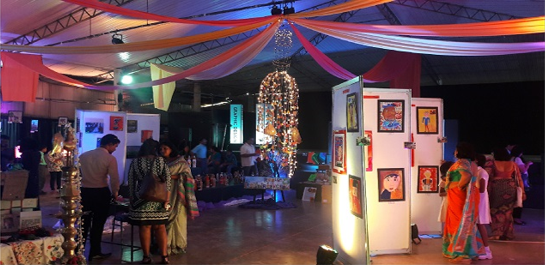 Following the success of two mixed media art workshops conducted by Bakamuna for students of the Learning Support Unit of Lyceum International School, Nugegoda, the unique and creative artwork was showcased at 'The Artist in Me'. An exhibition that was recently held at Lyceum International School to celebrate the artistic talents of children with learning difficulties.
The aim of the exhibition was to highlight the hidden talents of children who struggle to succeed in a standard classroom environment, through various forms of art, such as painting, sketching, photography and craft. In addition to Bakamuna, the Learning Support Unit is also grateful to their other sponsors AOD Colombo (Principal Sponsor), Yamaha Music Centre (Gold Sponsor), Emergence Education (Silver Sponsor) and Link Naturals (Bronze Sponsor).
As the Creative Partner of the event, Bakamuna conducted two mixed media workshops that encouraged the students to use a range of materials to create self-portraits. The students were taught about how each person is different and has their own unique qualities and were allowed to portray themselves in their own way. Mixed Media integrates two or more artistic mediums such as ink and pastel or paint and collage in to a single composition and each child was given the opportunity to explore this form of art and create something that was relevant to them. Bakamuna was also able to connect with the staff and contribute in terms of display ideas and advisory for the exhibition.
"We envision a world where differences are appreciated and strengths are highlighted, where children with different abilities grow in confidence and are empowered to reach their full potential," said Ms. Vanessa Perera, Head of Department, Special Education Needs. "As the Creative Partner for this event, Bakamuna worked alongside our staff to encourage and inspire our students, helping them to realize that they can develop their creative talents further and achieve great things."
"It was an absolute pleasure to be a part of such a worthy cause," said Chief Bakamuna/CEO Rochelle Bibile. "We were happy to have the opportunity to spend quality time with these kids and work with them on part of their exhibits. We were so amazed and inspired by the level of talent and creativity displayed at the exhibition and we truly believe that this is just the beginning of some great creative careers!"
Bakamuna is a mixed media lifestyle design brand that aims to create, connect and collaborate. The company actively supports the local art community in diverse ways.
Photo: 'The Artist in Me' Exhibition organized by the Learning Support Unit of Lyceum International School in collaboration with Bakmuna
Read on  DailyFT