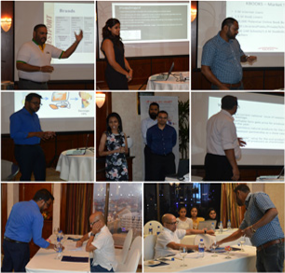 In collaboration with CHEC Port City Colombo – to identify and groom emerging Sri Lankan entrepreneur.
The 3rd wave of MTI's 'idea2fund' successfully completed stage three pitch presentations on the 21st of March at the Hilton Colombo. 'idea2fund' is a venture challenge platform powered by MTI Corporate Finance for aspiring entrepreneurs to pitch venture ideas, connect with potential investors and receive consulting advisory and implementation support through MTI Consulting.
The 7 shortlisted Sri Lankan start-ups from the second round presented their ideas to MTI Consulting CEO, Hilmy Cader. Each presentation was evaluated on several aspects such as validity, size of the opportunity and commercial viability of the concept. Based on the overall evaluation and fine tuning of the start-up concepts, the final shortlisted entrepreneurs will proceed to the 'Investor Linking Stage'.
"We have seen the drive, passion and potential in the ideas presented and we are looking forward to select the most promising ideas to take them to the next level. The combined recipe of MTI's strategic advisory including implementation support and investor linking will lead to the formation of new start-ups that will generate more opportunities and add value to the economy in the future," commented MTI Consulting CEO, Hilmy Cader.
MTI Corporate Finance is the corporate finance arm of MTI Consulting, a boutique strategy consultancy with a network of associates across Asia, Africa and Middle East. MTI Corporate Finance provides a comprehensive range of services, including due diligence, feasibility studies, funding new businesses or capitalization of existing ones – from IPOs to private placement facilitation, M&A facilitation, and advisory on governance, compliances and risk management.
CHEC Port City Colombo signed up with MTI's idea2fund, thus demonstrating their commitment to Sri Lanka by helping to identify and groom  emerging Sri Lankan entrepreneurs
Read on  DailyFT