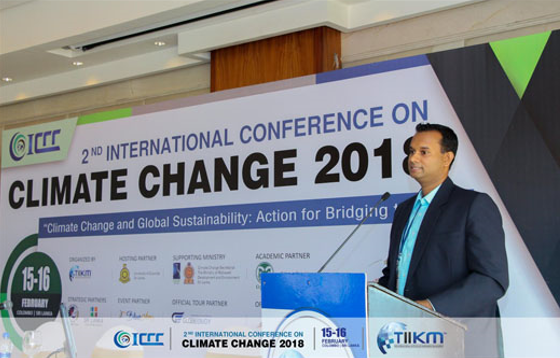 Carbon Consulting, one of South Asia's leading Sustainability Consultants (with MTI as a Strategic Equity Partner), has urged Sri Lankan businesses to take a more scientific and proactive response to Climate Change, stating that "businesses must make it their business to respond to Climate Change".
These comments were made by Carbon Consulting's – Suraj Vanniarachchy presented his paper at International Conference on Climate Change hosted by the University of Colombo, in collaboration with the Colorado State University The Climate Change Secretariat, the Ministry of Mahaweli Development and Environment and The International Institute of Knowledge Management.
The Conference witnessed the participation more than 100 participants representing more than 20 countries across the world. The countries included Sri Lanka, Germany, United States, United Kingdom, Bangladesh, Pakistan, Taiwan, Thailand, India, Republic of Korea, Singapore, Indonesia, Nepal, Myanmar, Iran, Australia, Japan, Turkey, France, Mexico and United Arab Emirates, etc.
Senior Consultant for The Carbon Consulting Company ( CCC ) – Suraj Vanniarachchy presented his paper on Assessment of Soil Carbon of the Mangroves in Shwethaungyan Area of the Ayeyarwady Region in Myanmar. Suraj leads CCC's forestry and renewable energy project development across the South Asian region. With over 10 years experience in international carbon project development in the South Asian region, Suraj brings with him a range of expertise in carbon assessment, management and developing and registering carbon mitigation projects.
Prior to joining CCC, he was employed as a Senior Scientific Carbon Associate at Prime Carbon Co Ltd in Vientiane, Laos, where he was entrusted with providing technical support and advice for developing climate change mitigation/adaptation and low carbon projects in Lao PDR, Myanmar and Thailand, and promoting carbon offsetting for the corporate sector. He was in charge of the overall management of environmental consultancies undertaken by the company as well as providing technical support and advice for Forestry Management and Certification projects in Lao PDR and Thailand.
Photo: Senior Consultant for The Carbon Consulting Company ( CCC ) – Suraj Vanniarachchy
Read on  DailyFT