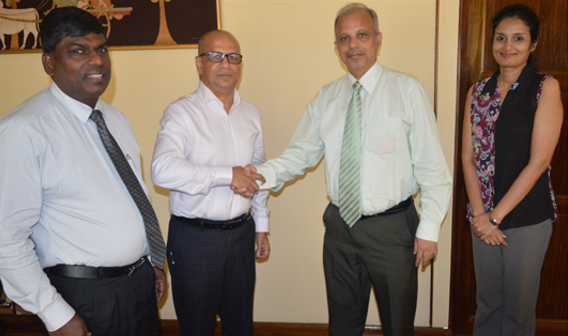 People's Bank is set to execute a Scientific Capacity Planning Study linked to Career & Succession Planning and a Two Way Performance Appraisals Mechanism, which was facilitated by MTI Consulting with the main objective of realigning the HR systems and appraisal process of the bank. This study was based on two of the Strategic Initiatives recommended in People's Bank Strategic Plan for 2016 – 2020 (launched in 2015) which was also developed with MTI Consulting.
Chief Executive Officer and General Manager of People's Bank, Mr. N. Vasantha Kumar stated: "MTI worked closely with People's Bank in developing the Strategic Plan in 2015, and are very acquainted with the challenges faced by the Bank and its employees, relating in particular to customer service quality and human resources management. The intended study is a result of the outcome of the Bank's Strategic Plan, which will lead to the implementation of two of the most important Strategic Initiatives identified using MTI's 8S® Model relating to human resources. This study will involve the interactive engagement from all employees of the bank."
MTI CEO, Hilmy Cader, expressing his pleasure to work with People's Bank again, stated that it is vital for the bank to implement a Scientific Capacity Planning study linked to Career & Succession Planning, which will impact and enhance the service quality and motivation of the staff. Mr. Cader further added that a Two Way Performance Appraisals Mechanism is essential to improve the effectiveness of the bank's current HR system and ensure the processes are agile with the objective of satisfying both internal and external customers.
People's Bank is one of the largest financial institutions in the country with assets worth over Trillion Rupees. Spanning across the country with well-connected network of over 735 branches, People's Bank facilitates more than 4000 Automatic Teller Machines (ATMs) in collaboration with the Lanka Pay service to provide round the clock service. People's dedicated staff counting nearly 10,000 serves a massive customer-base of over 10 million customers island-wide.
MTI Consulting is an internationally-networked boutique management consultancy, offering advisory services in Strategy, Business Operations, Corporate Finance, Talent & Resourcing, Tech Advisory and Go-to-Market. Since its inception in 1997, MTI has worked on over 630 assignments in over 43 countries, covering a diverse range of industries, clients and business challenges. MTI's credentials in the banking and financial services domain include Abans Finance, Bahrain Islamic Bank, BOC, Colombo Stock Exchange, Commercial Credit, HNB, HSBC, LOLC, NSB, NDB, Sanasa Development Bank, Standard Chartered Bank, The Finance and Union Bank.
Read on  DailyFT