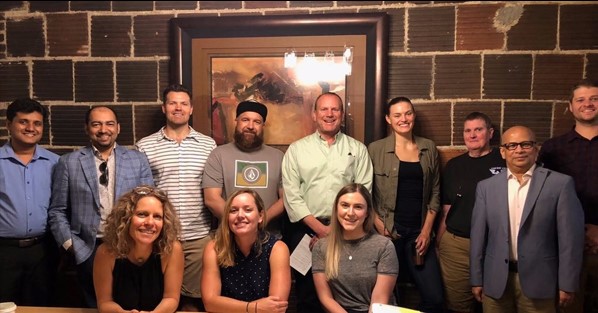 'Teatulia', the USA and UK based fast growing organic tea brand has developed their strategic direction with MTI Consulting. Teatulia is the international organic tea brand of leading Bangladeshi conglomerate Gemcon Group.
At the final presentation held in Denver, Colorado, President of Teatulia and Director of Gemcon Group, Dr. Kazi Anis Ahmed stated, "We have been working with MTI Consulting for the last 15 years and as always, we are very pleased with the outcome of this project. Organic tea is one of the fastest growing food and beverage market segments in the world. In order to capitalize on the increasing opportunities, we have sought MTI's expertise and advisory."
MTI CEO Mr. Hilmy Cader added, "Teatulia Organic Tea is a main focus area for the shareholders, given its unique value proposition and the appeal to a niche but growing customer base in western world. Through this project, MTI assisted Teatulia's senior management to identify the key growth markets and opportunities and facilitated to chart their strategic direction based on the key decisions and initiatives Teatulia has to undertake."
Teatulia is a certified organic tea company based in USA and UK, which source finest organic teas directly from their garden located in Northern Bangladesh. Teatulia has over 25 flavors available in black, green, herbal, oolong and white tea categories and available to the consumers via island wide retail stores and food service outlets. Teatulia has been certified by many certification bodies including USDA organic, rain forest alliance and fair trade.
MTI Consulting is an internationally-networked boutique management consultancy, offering advisory services range from Strategic Planning, Corporate Re-structuring, Process Re-engineering, Performance Management, International Market Entry, Feasibility Studies, Due Diligence, Corporate Finance, M&A, HR, Executive Search / Head Hunting, Marketing Strategy, Branding to Market Research. Since its inception in 1997, MTI has worked on over 630 assignments in 43 countries, covering a diverse range of industries, clients and business challenges.
Read on  Daily News