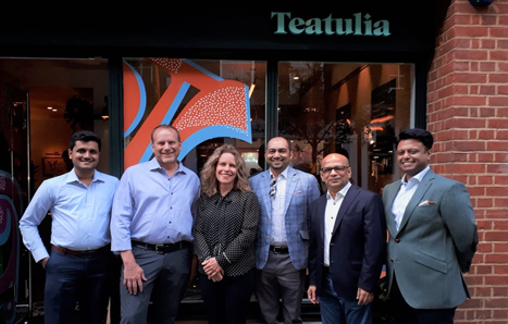 MTI Consulting has been retained by Teatulia, the fast-growing niche organic tea brand in the USA & UK, to chart their strategic direction and to provide implementation support. Teatulia recently launched its first Tea Bar near Covent Garden, London as a part of their growth strategy.
The official launch ceremony of the Teatulia Tea Bar was held this week and it will then be opened to the public. Based near Covent Garden, the premiere destination for visitors and Londoners who enjoy its many attractions; including shopping, theatre, restaurants, bars, history and culture, Teatulia Tea Bar is ready to serve high quality and gourmet organic teas, drinks and tea infused cocktails to London's upmarket crowd.
During the official launch, Director of Teatulia, Dr. Kazi Anis Ahmed stated, "We are very excited about the launch of Teatulia Tea Bar in London and our future expansion plans across the UK. We believe this is an opportune time to involve MTI Consulting, with whom we have a successful working relationship spanning over 15 years."
MTI CEO, Hilmy Cader added, "The UK tea market is currently experiencing drastic changes with increasing demand for herbal and organic teas and the rapid decline of traditional teas. MTI will assist Teatulia UK and Tea Bar to identify and capture these opportunities to position them as a premium organic tea brand in UK."
Teatulia is a certified organic tea company based in USA and UK, which source the finest organic teas directly from their garden located in Northern Bangladesh. Teatulia has over 25 flavours available in black, green, herbal, oolong and white tea categories and has been certified by many certification bodies including USDA Organic, Rainforest Alliance and Fair trade. Teatulia is the international organic tea brand of leading Bangladeshi conglomerate Gemcon Group.
MTI Consulting is an internationally-networked boutique management consultancy, offering advisory services range from strategic planning, corporate re-structuring, process re-engineering, performance management, international market entry, feasibility studies, due diligence, corporate finance, M&A, HR, executive search/head hunting, marketing strategy, branding to market research. Since its inception in 1997, MTI has worked on over 640 assignments in 43 countries, covering a diverse range of industries, clients and business challenges.
Read on DailyFT