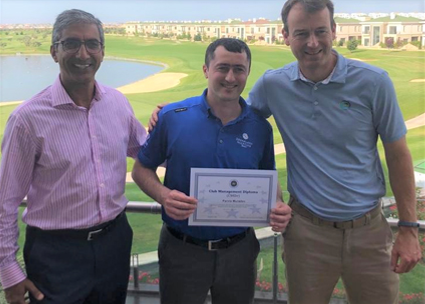 MTI Consulting, with an intent to penetrate the CIS markets, have undertaken an initial need identification assessment in Baku for the Dreamland Golf Club. This MTI assignment was led by Darshan Singh, one of MTI's Senior International Consultants, includes being retained by the Club Managers Association of Europe (CMAE) for management development in Spain, Portugal, UK, Dubai and Qatar.
Dreamland Golf Club is Baku's first and only golf course designed by famous American architect Cynthia Dye, from the leading architect firm Dye Designs. An 18-hole masterpiece, it provides a premium tournament golf experience. Azerbaijan
Nestled in the Caucasus between Europe and Asia, the capital of Azerbaijan, Baku shimmers fashionably on the Absheron Peninsula. With a backdrop of the Greater Caucasus and fringed by the Caspian Sea, the city's 12th-century UNESCO-listed Old City carries stories of camels, carpets and the Great Silk Road.
Baku enjoys a long golf season from early March until the end of December, with especially warm and light evenings in July and August when daytime temperatures reach around 35°C – refreshingly cool compared to its neighbors in the Gulf.
MTI Consulting is an internationally-networked, boutique management consultancy enabling clients to 'Analyze > Strategize > Realize' profitable business opportunities. Since its inception in 1997, MTI has worked on over 660 assignments in over 43 Countries spanning five continents, covering a diverse range of industries, clients and business challenges. MTI has been at the cutting-edge of thought leadership on strategy, having developed several strategic planning models and frameworks and having presented at over 150 conferences around the world.
Photo: MTI's Darshan Sign and Dreamland Golf Club Officials in Baku
Read on  DailyFT