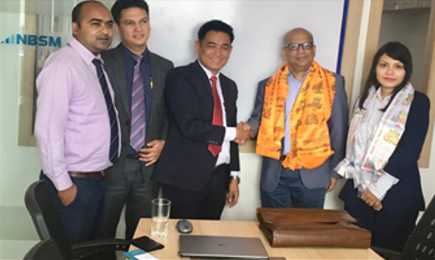 The MTI International team led by CEO Hilmy Cader, is currently in Kathmandu as part of its initiatives to strengthen ties with NBSM Consulting, MTI's associate in Nepal.
Commenting on the significance of the visit, MTI CEO, Hilmy Cader said, "We have always looked forward to working with boutique consultants across emerging markets. Our association with NBSM Consulting gives us the right opportunity to set footprints in Nepal. With a population of 29 million people and an economy growing at over 6%, Nepal is Strategically located between two large and rapidly growing economies – China and India – with easy access to markets of more than 2.8 billion people. Our experience in the South Asian markets gives us an edge in serving the public and private sectors in Nepal."
MTI Consulting has worked on assignments across emerging and frontier markets in Asian, Middle East and African regions, which include projects carried for multi-national and regional companies and agencies in Algeria, Bangladesh, Cambodia, Egypt, Indonesia, Jordon, Iran, Iraq, Lebanon, Myanmar, Nigeria, Pakistan, Philippines and Syria.
NBSM Consulting Private Limited has been a leading consulting Firm in Providing Service to Banking and Financial Institution and Insurance Industry in Nepal. They have been providing services in the field of Tax Advisory, M&A Advisory and Managed Services to diversified Industries in Nepal viz. Banking and Financial Institutions, Manufacturing, Trading, Mining, Insurance, Feed and Poultry, Regulatory Boards since 2009.
NBSM's Founder, Nil Saru, has an extensive experience in the field of Merger & Acquisition Advisory, Business Advisory and Tax Advisory. He has been appointed as the Expert Board Member of Securities Board of Nepal by Nepal Government, Ministry of Finance.
Photo: NBSM's Founder Nil Saru, MTI's CEO Hilmy Cader and MTI-NSBM joint task force
Read on  DailyFT